Big Sister Brenda is a southern girl. She graduated from Sulphur High School and grew up and worked in Southwest Louisiana all her life. She even worked for Big Brothers Big Sisters for several years herself.
When she was matched with her Little, Angel, over eight years ago, there was an element of culture shock she wasn't expecting.
While Angel was born in America, her family is Vietnamese. Brenda recalls when they first started meeting, Angel would often have to translate for her mother. "Communication now is 100% better," Brenda says. "I think at first Angel's mom was a little unfamiliar with the program, but after a few months, I just became part of the family."
One of the unique benefits of this relationship is that both families got to experience more deeply a culture that they were unfamiliar with. When Angel and her family went to Vietnam for the summer, they brought back a traditional Vietnamese outfit for Brenda. "That was just the sweetest thing," Brenda says.
Angel and her family also ensure that Brenda's family is never short on culinary experiences as well. "I can't leave the house without her sending me home with something. My husband loves it!"
The sharing goes both ways as well. Angel and her family often spend Thanksgiving with Brenda and her family. Brenda's granddaughter and Angel have become close friends as well throughout their relationship as a Big and a Little.
Angel and Brenda also have experienced new cultures together. When Angel read about a Korean festival coming to Houston, she asked Brenda if she'd be interested in attending. She was and they did—and it remains a favorite memory for both. Another favorite memory was when Brenda surprised Angel with a carriage ride along the lakefront for one of Angel's birthdays.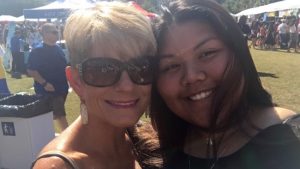 Angel is now nearing the end of her time as a Little. She's a junior in high school and college is on the horizon. She intends to study at McNeese and is interested in studying Criminology, Radiology or Social Work. Brenda intends to help Angel and her mother with college applications and the other paperwork that goes along with applying for colleges.
Looking back at those first few months when communication and cultural differences seemed tough, Brenda says simply, "It was worth it. All of it."
Big Brothers Big Sisters needs more Bigs.  Currently, there are children are on the wait list needing that special person to take an interest and become their mentor.  If you are interested in applying to become a volunteer with Big Brothers Big Sisters of Southwest Louisiana, visit www.bbbs-swla.net or call 337-478-5437.