In addition to their work with the children and families of Southwest Louisiana through its Site and Community-based volunteer programs, Big Brothers Big Sisters of Southwest Louisiana has been the host of the Foster Grandparent Program for over 20 years. Recently, the Foster Grandparent Program announced their Foster Grandparents of the year at their Spring Recognition Luncheon, generously hosted by the Golden Nugget.
This Foster Grandparent Program enables low-income senior citizens to supplement their income in a meaningful way by providing volunteer service to special-needs children, usually in the school setting. The program, funded by a federal grant through the Corporation for National and Community Service, has been sponsored locally by Big Brothers Big Sisters of SWLA since 1999. Foster Grandparents work with children one-on-one, helping those who are struggling academically. Along with the practical hands on work, the grandparents also help to boost the self-esteem and self-confidence of the children that they serve.
This year's winners have shown themselves to be incredibly impactful in the lives of the children they serve. Foster Grandparent of the Year Jean Underwood has been with the program for 15 years. She's currently stationed at J.D. Clifton Elementary. Rachelle Wilson teaches the first grade class Underwood works with, and had high praise for the Foster Grandparent, saying "As of the Mid-Year assessment, Student A from her group gained 14 points in Math and 23 in Reading; Student B gained 25 points in Math and 12 points in Reading; Student C gained 21 points in Math and 12 points in Reading; and Student D grew 11 points in Math and 12 points in Reading. As you can see, she is a necessary element in our classroom so that the students can thrive and reach their full potential."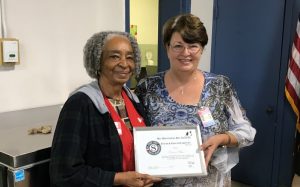 First runner up Donna Tillis achieved similar results with the students she works with. Mary Williamson, teacher of the Kindergarten class at College Oaks Elementary where Tillis is stationed noted, "She has helped the two students [she works with] to achieve in the areas that they were weak. Both students have shown tremendous growth according to our District Common Assessment. One student in particular has grown 52% in reading and 32% in Math."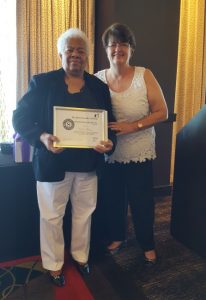 The second runner up this year was Delores Stagg, another 15 year veteran of the program also stationed at J.D. Clifton Elementary. Ellen Steward, the teacher of the class Stagg works with said, ""Mrs. Stagg worked very hard with her group by encouraging them and letting them know how proud of them she was when they learned a new skill." While their test scores also improved, Steward noted that Stagg's influence went beyond that, saying "She inspired my students to want to learn more and do more."
Kathy Richard, who has been the Director of the Foster Grandparent Program since 2006, says, "Recognizing the impact that the Foster Grandparents have in the classroom is really important. Hearing back from the teachers about how valuable they are to the classroom helps inspire and encourage them to continue working with us. Their impact is much broader than improving test scores. It helps the teachers, it helps the children, and it keeps our Grandparents active and happy!"
The Foster Grandparent Program needs more Grandparents! Interested persons should be 55 years or older and have a genuine love for children and desire to see them excel academically. This is a site based program, meaning you only work with the children in a school setting. If you are interested in applying to become a volunteer with The Foster Grandparent Program, visit www.bbbs-swla.net or call 337-478-5437, ext. 104 for more information.