While summer is a kid's favorite time of year, it can be tough (and expensive) for parents. With vacations to plan and no school during the day to keep children safe, many shell out several hundred dollars for camps and babysitters to keep children entertained and safe. For others, the cost of summer childcare leaves them searching for an affordable solution.
Luckily one of the programs offered by Big Brothers Big Sisters of Southwest Louisiana is a free and educational summer camp that takes place at the their office near McNeese on Common Street.
This year, BBBS Littles were entertained all summer thanks to donations from many local businesses and organizations. iBERIABANK, an Annual Corporate Partner of BBBS-SWLA, hosted a Summer Savings Program designed to teach financial literacy and other skills. This program culminated in an auction hosted by Hal McMillin where the children could bid on donated items with "BBBS BUCKS" awarded for good behavior.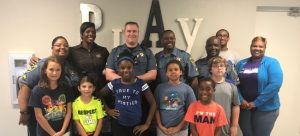 The Calcasieu Parish Sherriff's Office also stopped by to discuss the importance of staying away from drugs and alcohol as well as share some of their experiences as law enforcement officers.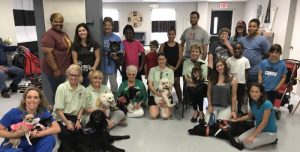 Another memorable day included a visit from Dr. Dog's Pet Therapy, where our Littles got to meet (and snuggle) with some local therapy dogs, as well as learn a little about the right way to treat and interact with new dogs they meet.
Other events included a tour of McNeese State University; several visits from the Calcasieu Parish Library's Library 2 Go; health and nutrition lessons from Dr. Karpovs and his wife; agriculture and gardening lessons from Master Gardeners; and a visit from Mickey Smith Jr., a

Grammy-recognized music educator and saxophonist, who shared his musical talents and positive message to the Littles.
When they weren't enjoying these wonderful visitors, they were having fun with educational activities like reading, journaling and using critical thinking skills—with plenty of time for a weekly water day and movie time.
Program Coordinator Robert Bowman who has coordinated the Summer Program for the last two years highlights the importance of keeping the children engaged, saying "This isn't supposed to be a regular camp. We're trying to engage and challenge our Littles and keep their minds motivated to keep learning, even after school ends."
BBBS-SWLA Executive Director Erin Davison says that it's with the help of the different organizations mentioned above that the Program works so well. "When our Littles experience different organizations sharing different things like music, safety, money management, gardening, and a few cute dogs thrown in—it's hard for them not to be excited and engaged. We are really lucky to have the amazing support of our community so we can offer this program to some of our Littles who really need it."
Big Brothers Big Sisters of SWLA is in need of more adult volunteer mentors.  Currently, the summer program Littles are on the wait list needing that special person to take an interest and become their mentor.  If you are interested in applying to become a volunteer mentor with Big Brothers Big Sisters of Southwest Louisiana, visit www.bbbs-swla.net or call 337-478-5437.