When John Fontenot lost his father a little over 10 years ago, he thought about one of the many lessons his dad had taught him growing up—when you feel bad, you need to do something good. So, he signed up to be a community-based mentor with Big Brothers Big Sisters of Southwest Louisiana.
"I had some doubts," Fontenot admitted. "Like, 'How much time do I really have? Am I worthy to mentor someone?' But in the end, I decided this was something I needed to do."
Despite his original reservations, once he was matched with his Little Greg Gott, they hit the ground running. After finding out they were nearly neighbors, Greg and John spent a lot of time fishing in the nearby areas, visiting Mr. Gatti's and working on John's farm together. He says, "It occurred to me then that I don't need to have any game-changers here. I just have to spend time with him. You don't have to buy NFL tickets, it's not about that. It's about the time."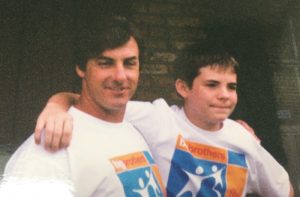 Greg agrees, saying that many of his favorite memories are summers spent working together on John's farm. He describes the relationship as being formative in his young life, saying "John is definitely the most influential man in my life. You can see a lot of him in me."
John also realized how seriously Greg took to heart his advice and opinion. John remembers after encouraging Greg to try the red beans and rice his mom made, despite his reservations, he received a distressed call from Greg's mother. Not only had Greg enjoyed the meal, but he had gone back for two more plates and she didn't have leftovers for the rest of the week!
Over the years, John has continued to be an influential person in Greg's life. They see each other on the holidays, talk on the phone frequently and, most recently, John attended Greg's graduation from the Naval Station Great Lakes.
When reflecting on the relationship that now spans over a decade, Greg highlighted the importance of mentorship and getting involved. "It's never a bad thing to give back to your community. People need people. It's beneficial for both parties involved. There are times I'm helping John too. It was a wonderful experience and it's a relationship that's now lasted half my life. I'm part of his family and he's part of mine."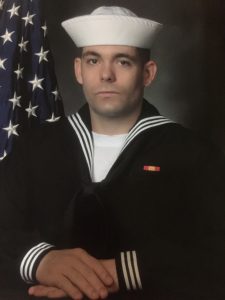 John also recognized that he was in a position to be a community-based mentor because he had such a strong, positive male mentor in his own life, saying "My dad was a huge part of my life. In many ways; I wanted to be able to give all the better experiences that I've had to someone else. By being that person who gives something to someone else, it helped me grow as a person."
Now as Greg finishes his training with the Navy and looks toward his future, he credits his family—which has, for many years, included John—saying, "I would not be the man I am today without him."
Big Brothers Big Sisters needs more Bigs.  Currently, these and other children are on the wait list needing that special person to take an interest and become their mentor.  If you are interested in applying to become a volunteer with Big Brothers Big Sisters of Southwest Louisiana, visit www.bbbs-swla.net or call 337-478-5437.