NOTE: All names have been changed to protect the identities of the wait list children enrolled in our mentoring program.
For many children in our community, having someone to spend one-on-one time with them would be a welcome occasion. They have parents who may work more than one job or off hours, or they may come from single-parent households or live with grandparents who aren't able to do all the activities the children would like. For these children, Big Brothers Big Sisters of Southwest Louisiana provides a lifeline. They match children with a mentor and through a one-on-one, professionally supported relationship, Bigs provide the attention and care that the children need.
National research has shown that having a mentor makes kids less likely to skip school, engage in risky behaviors like drug and alcohol use, and help children achieve goals they previously thought to be unreachable—like college or, in some cases, even graduating from high school.
Having a Big is a proven step in the right direction in these kids' lives, but there's only one problem: Big Brothers Big Sisters doesn't have enough volunteer Bigs.
BBBS-SWLA currently has around 50 children waiting to be matched with a Big in the Community Program. When asked what it would mean to have a Big, and what he hopes to have in a Big, Louis, aged 11, said, "I don't care about his age or anything, and I don't mind if he has a family as long as he wants to see me. I just want someone I can spend time with. I want a Big Brother because it feels like something is missing in my life."
Bailey, age 12, had a different take. She said, "I want someone to do things with and to help me develop social skills. Having a Big Sister, well, it will just help me relieve the stress that I have at school."
Another of our kids on the wait list, Adrienne, age 11, is an avid reader and wants a Big who loves to read just as much. She said, "I want to read the same books so we could talk about them."
While on the wait list, children have access to events organized by BBBS and generous community partners. For example, the Kiwanis Club of Southwest Contraband recently acted as "Bigs for a Day" and took several Wait List Littles to play for the afternoon at The Children's Museum. Academy provided gift cards for back to school shopping for both wait list and currently matched Littles. The Phi Mus and Kappa Alphas at McNeese State University hold an annual Christmas party for the Wait List Littles every year and generously donate their time and gifts to the children. BBBS-SWLA tries to impact the Littles' lives as much as they can, but the goal is always to get them matched with a Big and enrolled in our flagship program—the Community Mentoring Program.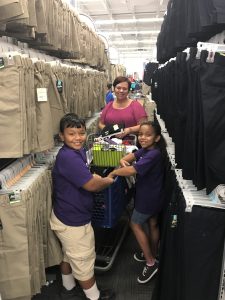 Children at Big Brothers Big Sisters who are waiting to be matched range in age from six years old to 12 years old. The biggest need BBBS has currently is for male volunteers; nearly 70% of the children waiting to be matched are boys. Being a Big can be unbelievably rewarding.  Many Bigs say they feel they get more out of the relationship than their Littles. One Big explained, saying "You know, I thought when I got into this, that the only outcome would be that I made a difference in a kid's life. But I can tell you, the exact opposite has happened. I think I have been more blessed than he has because of him. I will be first to say that this program has changed my life and I think I get more out of our meetings than he does."
For Jeremy, aged 10, getting a Big meant more than even the staff knew. After meeting his Big for the first time, he pulled a member of staff aside and said, in a whisper, "Thank you. Now I don't have to be alone."
Big Brothers Big Sisters needs more Bigs.  Currently, these and other children are on the wait list needing that special person to take an interest and become their mentor.  If you are interested in applying to become a volunteer mentor with Big Brothers Big Sisters of Southwest Louisiana, visit www.bbbs-swla.net or call 337-478-5437.