When Brad Ragusa was a kid in the early eighties, his mom pitched him an idea—how would he like to have a Big Brother? Raised by a single mom, with an older brother away at college, Ragusa says "I was young and at the age where I needed some guidance."
Ken Chamberlain was a young engineer who had just moved to Lake Charles. His upbringing instilled a desire to volunteer that was stronger than most. "My dad was in foster care and we brought in some kids in foster care. He laid the groundwork that when people are in need, you've got to help out."
Brad and Ken were matched and now, over thirty years later, they still keep in touch.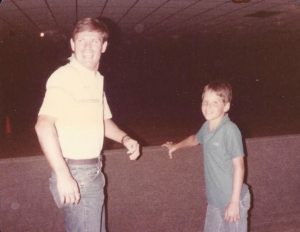 The experience for both was an overwhelmingly positive one. They stayed matched for nearly a decade, until Ragusa aged out of the program when he graduated high school.
Chamberlain says, "Just in general, I think we had a good match. We did go do a lot of things and we tried to be active in the BBBS group activities." Ragusa agreed.
After aging out of the program, Ragusa has moved around quite a bit. He travelled Europe in his youth for just over a year, worked in restaurant management, went to and graduated from culinary school, and worked in food sales before signing on as the second hire after the original founders of Waitr as the Business Development Manager.
Notably, Chamberlain has also moved from an engineering position to a sales position himself. He has stayed in the Lake Charles area and become involved in many of the worthy causes in Southwest Louisiana. His wife, Karen, currently serves on the board of Big Brothers Big Sisters of Southwest Louisiana. He celebrated thirty years with Emerson Automation Solutions this year.
The two rekindled their friendship when Ragusa moved back to Lake Charles about a decade ago. They see each other regularly, both at church and at events in the community.
Chamberlain credits his experience with BBBS-SWLA helping him to integrate into the Lake Charles community while also helping out a child in need of a mentor. "I think it's a wonderful opportunity to be a mentor and be that example that many young kids need. Especially the kids who sign up as Littles. It was a wonderful experience for me."
Ragusa agreed, saying "I wish I could be a Big myself, but I travel so much for work that it makes it hard for me to volunteer." Instead Ragusa is working with Waitr to put together several teams for this year's Bowl For Kids' Sake on March 25.
In the end, Ragusa says, "I definitely recommend kids and adults getting involved. It's a great program. There's a need for mentoring in the community. There was a need for it then and there's a need for it now. I'm forever grateful for Ken coming into my life."
Big Brothers Big Sisters needs more Bigs.  Currently, these and other children are on the wait list needing that special person to take an interest and become their mentor.  If you are interested in applying to become a volunteer with Big Brothers Big Sisters of Southwest Louisiana, visit www.bbbs-swla.net or call 337-478-5437.